Love and marriage, love and marriage
Go together like a horse and carriage
Dad was told by mother
You can't have one, you can´t have none
You can't have one without the other
– Frank Sinatra
In the 1980's, a group of researchers talked to a WHOLE lot of young people and asked them…
Would you marry a person you weren't "in love with," but who had all the qualities you desired in a partner?
Over 80% said : NO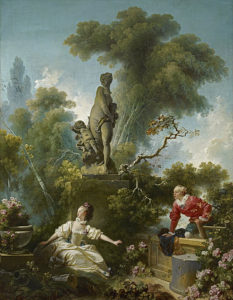 Honoré Fragonard – Les Progrès de l'amour : Le rendez-vous
Another group of researchers found couples who married for love and followed them for 20 years. They expected to find some version of "happily ever after," barring the stressful child-bearing years. What they found, however, was that over time, each partner's satisfaction plummeted, and intimacy—ranging from confiding in each other to having sexual intercourse—greatly subsided.
It's easy to see marriage as the culprit. After all, love was there first. But the opposite turns out to be true: love—at least the "romantic" kind filled with sexual desire fueled by neurobiology—was the greatest contributor to marital unhappiness.
Well, no, but that depends on how you define love. Researchers have recorded 216 unique types of love! The most endearing and enduring kind is compassionate love, defined as
"an attitude toward other(s). . .containing feelings, cognitions, and behaviors that are focused on caring, concern, tenderness, and an orientation toward supporting, helping, and understanding the other(s), particularly when the other(s) is/are perceived to be suffering or in need"
In every working relationship, positive and negative sentiments sit side by side. The predictor that a marriage may be headed for divorce is the absence of any positive feelings, not the presence of negative ones (We aren't discussing toxic relationships with abusive behaviours or addictions).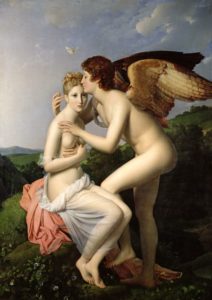 François Gérard – Psyche Receiving Cupid's First Kiss (1798)
They say it's a 5:1 ratio; for every 5 positive things, there's a negative. But it's not just "the thing" or the among of things—it's how you resolve your feelings about "the thing," your residual sentiment. Feelings of compassion can be cultivated ♥ over time.
What can be done with what we know?
Setting the right expectations about love, navigating complexities in relationships, dealing with heart-break or boredom, the work-love balance and communication skills, needs to happen early-on.
Love is not just an emotion. It's an attitude and one that will always remain 'a work in progress.'