"Silly Caucasian girl likes to play with Samurai swords"
– O-Ren Ishii, from Kill Bill I
So what if N hit T last week? She must've done something to provoke him. I know T from birth. She has many flaws. She is not as innocent as she wants you to believe (Woh bhi koi doodh ki dhuli nahin hai). Besides, she has never earned a single penny in life. She doesn't know what it means to live alone, let alone to live in a conservative Indian neighborhood where people will point fingers at her, " said the concerned and loving father of 40 year old T, a housewife from a very privileged background who moved in high society social circles, and who initially came to me for clinical depression.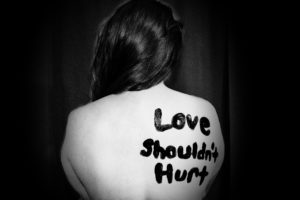 Photo by Sydney Sims on Unsplash
Firstly, let there be no doubt in your mind that the evidence is robust when it comes to witnessing intimate partner violence for all the victims concerned (wife and kids).Sensitive children who live with it are likely to be emotionally incompetent wrecks, and it doesn't matter whether they are European, American or Indian. There is no Indian superhero gene that protects our kids any more than anyone else. Kids, however tend to imitate easily. So dear father, please remember that you shape your childs' ability to be emotionally stable and competent, qualities that are fundamental to being healthy adults. And, dear Indian father-of-the-bride, India in 2017 does not have the same gender structural inequalities and patriarchal cultural norms that it did in 1917. The daughter that you held in your arms as a baby, has been physically abused. Limiting her access to emotional (love), economic (family support) and legal resources, is not saving her family. For whatever reason, if a spouse has raised his hand, he is a batterer. Call him that. Your daughter is a victim who has experienced humiliation, a decreased sense of power and uncertainty about the next flare up. She needs to be empowered, regain her confidence and self-worth and heal. There is no question, you need to be by her side, whatever the origin of the conflict.
1. Safety first. In June, 2017, 44 countries signed the "Convention on preventing and combating violence against women and domestic violence" that highlighted the four P's: Prevention, Protection and Support of Victims, Prosecution of Offenders, and Integrating Policies. Know the law in your country.

2. Get into therapy with a qualified therapist, both individual and couples therapy. Anger management, impulse-control therapy for helping you to communicate peacefully and medication where required.

3. Feeling unfairly persecuted. "I hit her because she provoked me"
Dear husband, are you justifying your battering behavior? Are you rationalizing pounding your partner? Are you trying to enforce behaviors at home by assaulting your spouse? Are you trying to solve problems by thrashing her? You have a problem. You have violent outburst. You need to see a doctor, a psychiatrist, a therapist or all three and unlearn your behaviors. First of all, own up to your problem and get treated. Your problem as a couple comes next. Getting treated for your impulse control is not a guarantee that your relationship will work out, but it is a shot that is good for your own health.

4. Drug misuse/abuse: If this is the case, rehabilitation is what you need. Until then, the family needs distance and protection from you (the spouse)

5. For you, dear victim. Make it your purpose to secure yourself, your body, your mind. Don't take any hasty decisions, but don't let fear, your parent or your spouse dominate your choices for your chance at safety and security.